Why Priority Access?
Priority data buyers get access to the online meeting scheduler to pre-plan their own meetings. This allows you access to view all 100 alternative data providers attending and their alternative data tear sheets. After looking through the data providers attending you will be able to build out your own meeting schedule for the two day event. As a priority data buyer you will not be locked out of specific alternative data providers attending because we limit the number of priority tickets we sell.
What is Ensemble?
Ensmeble will bring together alternative data providers in a collaborative enviroment to explore the idea of combining data sets to increase signal strength. There will be four 30 minute table meeting discussions from 10:00am until 12:00pm. Each table will have up to 8 seats, up to 6 of which will be data providers plus 1 one person from the BattleFin data team and 1 other buyside participant of or advisor.
The goal will be to discuss combining data sets to increase signal strength.
PRIOR 2018 DISCOVERY DAY AGENDA:
General Agenda outline: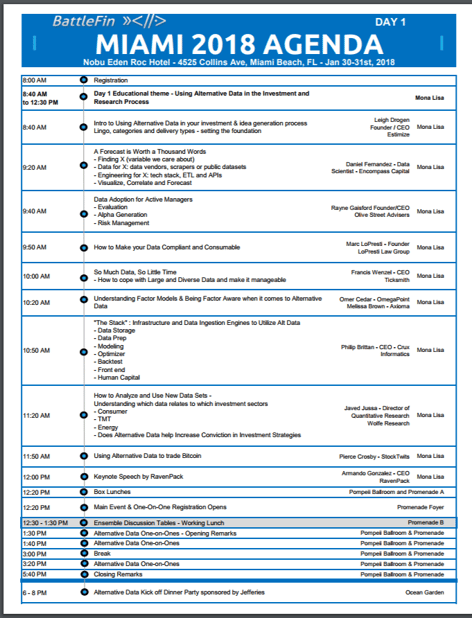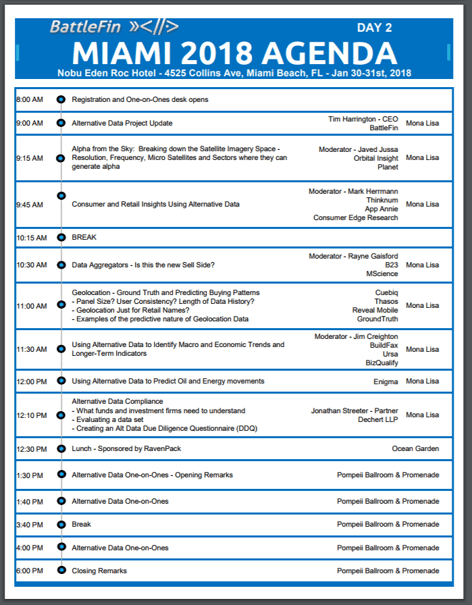 TICKET PRICE INCREASES:
Increases to $1,495 after March 15th, 2018 and to $1,995 after May 15th, 2018

See additional upgrades above.
If you have a discount code you may enter it on the next payment page by clicking the "enter promotional code" link.
In additional to the Alternative Data One-on-Ones, Data buyer attendees also get to attend the January 29th Lunch, Alt Data Kick Off Dinner, all panel sessions and January 30th Lunch.