BattleFin Discovery Day Palo Alto 2017
ALTERNATIVE DATA ONE-ON-ONE MEETINGS
Data Buyer Registration
Alternative Data Discovery Day Palo Alto will be an event with 30 data providers with a west coast geographical focus.
What is Alternative Data Discovery Day: A one-day event on October 26th, 2017 that will showcase cutting edge data stream providers to hedge funds, VC firms, and data buyers. We will use a One-on-One meeting format with rotating meetings every 15 minutes so data providers can do direct meetings with data buyers. We have held this event before and it was a tremendous success.
Video: http://alternative-data-video.battlefin.com/
Who should attend: Data-centric, Quant, quantamental, fundamental and long only asset management firms interested in alternative data.
Partial list of prior data providers: RavenPack, Dow Jones, Orbital Insight, Return Path, PsychSignal, iSentium, State Street, Yodlee, and many more.
Why: Let's face it the world does not need another conference or event. BattleFin's roots stem from our global seeding tournaments and data competitions started in 2012. BattleFin Alternative Data Discovery Day events provide a unique setting to connect you with the most relevant asset management firms. We have had success in matching the right data providers with the right data buyers through our preplanned One-On-One styled meetings.
Why Choose Priority Access?
Priority data buyers get access to the online meeting scheduler to pre-plan their own meetings. This allows you access to view all 25 alternative data providers attending this event and their alternative data tear sheets. After looking through the data providers attending you will be able to build out your own meeting schedule for the event. As a priority data buyer you will not be locked out of specific alternative data providers attending because we limit the number of priority tickets we sell.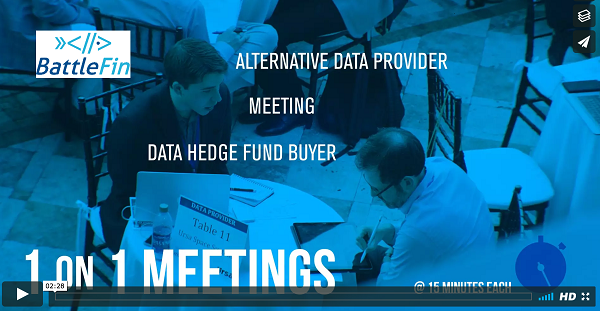 DATA BUYER TICKET
Includes 1 attendee ticket
Up to 10 One-on-One meetings with Data Providers
PRIORITY ACCESS DATA BUYER TICKET
(limit 10)
Includes 1 attendee ticket
Up to 10 One-on-One meetings with Data Providers
Priority Access to Alternative Data Meeting Scheduler (First pick at meeting requests with Data Providers)